Treatments
Holter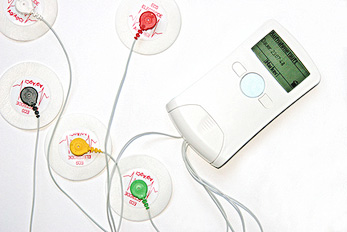 The long-term ECG is suitable for recording electrical cardiac activity for several days if there is a suspicion of recurrent cardiac arrhythmia.
For this purpose, five adhesive electrodes are usually attached to the upper body and recorded the data in a memory (about mobile phone size). Relevant and treatable disturbances of the heart rhythm can be recognized and treated properly.
Also suitable to analyze the speed of the heartbeat under everyday conditions. This is relevant, for example, in heart failure patients for the therapy setting.
Contact
---
Cardiologist
Dr. Markus Schumacher
Markt 2-3
13597 Berlin
Directions
+49 (30) 353 840 51
Monday to Friday
8:00 a.m. - 12:00 p.m.
Monday to Thursday
1:00 p.m. - 5:00 p.m.
Book appointment online