Treatments
Rhythmology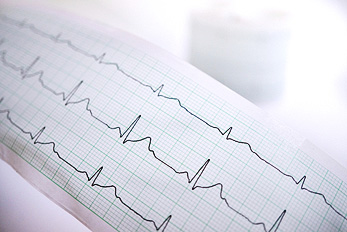 Rhythmology is a specialty of cardiology and deals with changes in the formation and transmission of electrical stimulation of the heart muscle cells. The expression of these disorders is a variety of cardiac arrhythmias, which often cause too fast, too slow or irregular heartbeat. Complaints may include dizziness, fainting ("syncope") or poor performance.
Basic diagnostic procedures for accurately identifying a cardiac arrhythmia include ECG, exercise ECG ("ergometry"), long-term ECG, event recorder and a special cardiac catheterization ("electrophysiological examination").
Depending on the type of cardiac arrhythmia, a drug or an invasive treatment ("electrophysiological examination") come into question.
The initiation and monitoring of medical treatment as well as the preparation and follow-up of rhythmological interventions ("electrophysiological examination", implantation of a pacemaker or defibrillator) can be done on an outpatient basis (in practice) (see also Pacemaker and defibrillator control). If a special cardiac catheterization exam ("electrophysiological examination") is necessary, mediation must be made to a suitable hospital.
Contact
---
Cardiologist
Dr. Markus Schumacher
Markt 2-3
13597 Berlin
Directions
+49 (30) 353 840 51
Monday to Friday
8:00 a.m. - 12:00 p.m.
Monday to Thursday
1:00 p.m. - 5:00 p.m.
Book appointment online